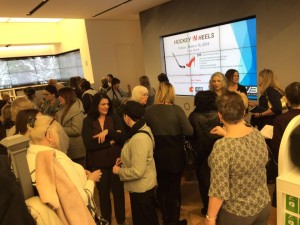 Calgary is well-known for its entrepreneurial spirit and January's Coffee Meet-Up really showed how strong that spirit is!
More than 100 motivated women were RSVP'd as attending the monthly event, and the room was packed! As always, the event started at 10 a.m., and it started off with each woman giving their 1 minute "elevator speech," where they had the opportunity to introduce themselves, their business, and one challenge they were facing with their business.
Before open networking got underway, we had a special guest, Emma Portsmouth from the Calgary Flames! Emma was there to give this group of the ladies the very first announcement of our exciting Hockey 'N Heels event on March 16, 2018!
WB is teaming up with the Flames to hold a special networking event. Attendees get VIP entrance to the game, access to the prestigious Alumni Room (which has an ah-mazing view by the way!), an inspirational guest speaker (TBA), full dinner with open networking and of course you can watch the Flames take on the San Jose Sharks when the puck drops at 7 p.m. Tickets are $96/each, including all taxes and fees – which is a GREAT deal if you've looked at ticket prices lately!
We have now opened up tickets sales to not just the WB group, but to all ladies! But tickets are selling very fast, so if you want in, click this link to get your tickets now!
Our regular coffee meet-ups are held on the last Saturday of each month. Our next one will be  on Saturday, February 24. You can RSVP on Meet-Up here or check out any of our Meet-ups on our Women in Business Networking in Calgary Meet-Up page.